Rooms and suites with a panoramic view of the mountains
All our rooms and suites have a local style and an enchanting view of the mountains of the Fiemme Valley
The Lagorai Alpine Resort & Spa has 12 types of rooms, ranging from classic, interconnected rooms to junior suites and suites.
They are all spacious and bright, endowed with a balcony offering a wonderful view of the mountains and furnished with traditional local style.
The prestigious pinewood of the Fiemme valley contributes to the elegance and refinement of all rooms.
Cosy double room of 20 mq
occupazione: 1 - 2 persone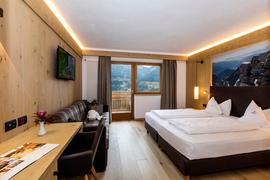 Comfortable room of 20 mq with a panoramic view
occupazione: 1 - 2 persone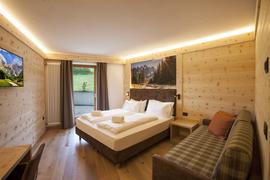 Intimate double room of 22 mq with Jacuzzi
occupazione: 1 - 2 persone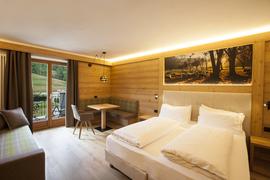 Wonderful unique environment room of 25 mq
occupazione: 2 - 4 persone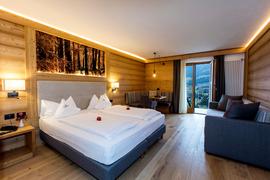 Wonderful unique environment room of 25 m2 with panoramic view
occupazione: 2 - 4 persone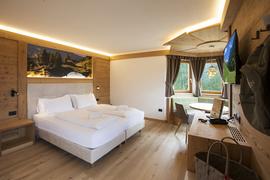 Bright and refined junior suite of 25 mq with a superb view of the town and the valley
occupazione: 1 - 2 persone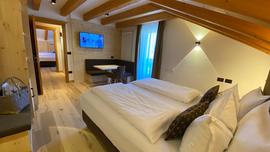 Ideal family suite composed of two interconnected attic double rooms of 40mq
occupazione: 3 - 4 persone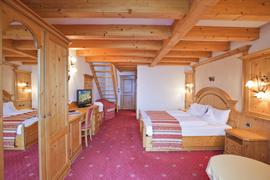 Family suite of 45 m2 on two levels for demanding families
occupazione: 3 - 5 persone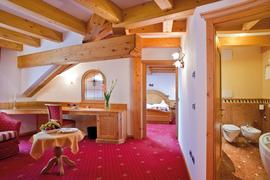 An enchanting living room and an attic double room of 36m2 with Jacuzzi
occupazione: 2 - 4 persone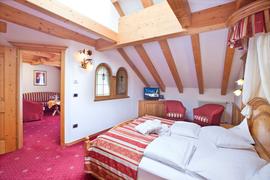 Attic room with separate living room of 36m2 with panoramic view
occupazione: 2 - 4 persone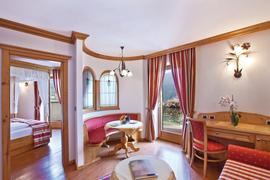 Light permeates both living room and double room of this suite of 35m2 with a breathtaking view of the Fiemme valley
occupazione: 2 - 4 persone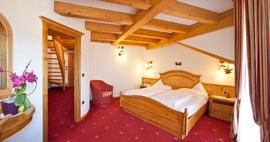 Refined and bright family suite of 50m2 on two levels with living room, two bedrooms and a panoramic view
occupazione: 3 - 6 persone