Discover the news and plan your holiday in Trentino Alto Adige
Have a direct contact with us in order to get the latest news and start dreaming of your relaxation holiday in Trentino Alto Adige
Read our latest news in order to best organize your regenerating holiday in the dolomites.
Being our slogan "innovation with passion", we are always in search of something new to propose you and making your stay in trentino alto adige unforgettable.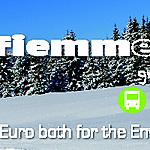 -
2,50 Euro for the Environment and more advantages for You!
more details