Alpine skiing in the Fiemme valley
Excellent ski areas within the reach of all alpine skiing lovers in the Fiemme valley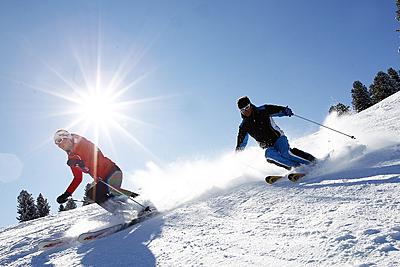 Alpine skiing is the most popular winter sport. The ski consortium of the Fiemme valley includes 5 different ski areas: Cermis, Ski Centre Latemar, Bellamonte-Alpe Lusia, Passo Lavazé-Oclini and Passo Rolle, with more than100 km of slopes with breathtaking panoramas.
All slopes are equipped with refuges and après ski and perfectly covered with snow even when heavy snowfalls are lacking.
The Cermis is the nearest ski area to Lagorai Resort & Spa; it can be reached in only 5 minutes time with the ski-bus that stops just in front of our hotel at least every hour.
In this ski area you will find Olimpia, the most beautiful slope of Trentino. Its 7.500m length and 1.400m drop will astonish you, especially by night. The slope is in fact floodlit for three times a week and even the view from our restaurant is absolutely amazing!
The Cermis is ideal for families with kids as well as for beginners for its sunny location, the ski school and the Cermislandia playground with assistants.
Cavalese - Alpe Cermis
Via Cermis, 2 - 38033 Cavalese (TN)
Contatti: Tel: +39.0462.340490 | Fax: +39.0462.231111 | info@alpecermis.it
I.T.A.P. S.p.A. Alpe di Pampeago
Loc. Pampeago, 9 - 38038 - TESERO (TN)
Tel 0462.813265 | Fax 0462.814465 | info@latemar.it
Bellamonte – Ski Area Alpe Lusia
Località Castelir, 7 -38037- Predazzo (TN)
Tel. +39.0462.576234 | bellamonte@skiareaalpelusia.it
Links: